Our Students Succeed Here
W.F. Kaynor Technical High School has a rich tradition of serving the Greater Waterbury area for over fifty years. We are dedicated to providing our students with an education that combines rigorous academic study and the excitement of learning a technology.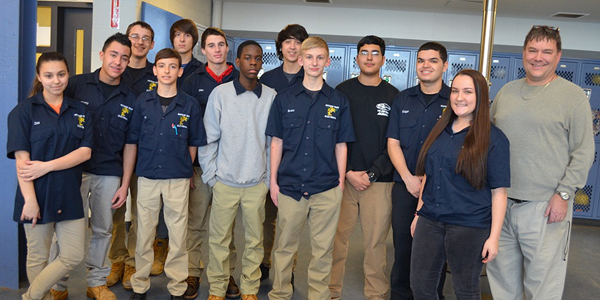 The dual education allows our students, upon graduation, the opportunity to go onto college or have the skills necessary for immediate employment. We want our students college-ready and able to graduate with a skill. We have a long list of successful graduates in colleges as well as many graduates working in area businesses. We have alumni who are doctors, lawyers, company presidents, scientists, teachers and a mayor who benefited from this unique educational experience.
Since we take students from nine surrounding towns, we consider our school a magnet school that offers something unique and distinctive from the traditional high school setting. We have 12 trade areas for students to choose, these include the production trades of Carpentry, Electrical and Plumbing & Heating; the service trades of Hairdressing, Culinary, Automotive, Collision Repair, Information Technology, and Health Technology; and technical trades like Electronics, Mechanical Design and Engineering, and Precision Machining.
Where Our Students Come From
We attract a diverse student population from across Connecticut because of our extensive Career and Technical Education programs, rigorous academics, opportunities for real-world work experience and the chance to earn college credit. Below are the towns our students frequently come from, but others are encouraged to apply. Learn more about our application process.
Bethlehem, Middlebury, Naugatuck, Plymouth (Terryville), Prospect, Southbury, Southington, Thomaston, Waterbury, Watertown, Wolcott, Woodbury